---
ALTO Kitchen & Bar
Lunch/Dinner & Takeaway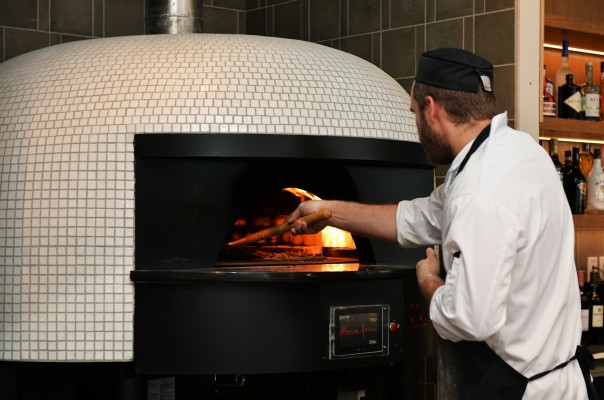 Located in the heart of Panorama's upper village, Alto Kitchen & Bar offers a mouthwatering selection of menu options in a cozy mountainside setting. The pizzas are fluffy and light, and fire baked to perfection in a beautiful Forno Bravo pizza oven that is the heart of the restaurant. There's also favourites like succulent beef tenderloin served with apple puree, wild mushrooms and hunter sauce, or lobster pappardelle with brown butter, gruyere and basil. Leave room for dessert as decadent chocolate cake is a specialty here, oozing with ganache and raspberry filling this is not one to miss.
From the cozy plush booths to the exposed brick walls, Alto Kitchen & Bar is guaranteed to set the tone for an evening of relaxed gourmet dining.
The rotating wine list, creative cocktail menu and local craft beers give you plenty of choice.
Reservations are encouraged and can be booked here. Takeaway pizza can be ordered via phone 250-341-4444.
MUST EAT:
Dinner: Duck Breast with roasted celeriac, citrus carrot, red cabbage puree, spiced jus
Lunch: Mountain Dweller Pizza
Anytime: Chocolate Cake with ganache and raspberry filling
MUST DRINK: Pomegranate Gin Fizz
Fireside Café
Dine In/Takeout Coffee, Sandwiches & Pastries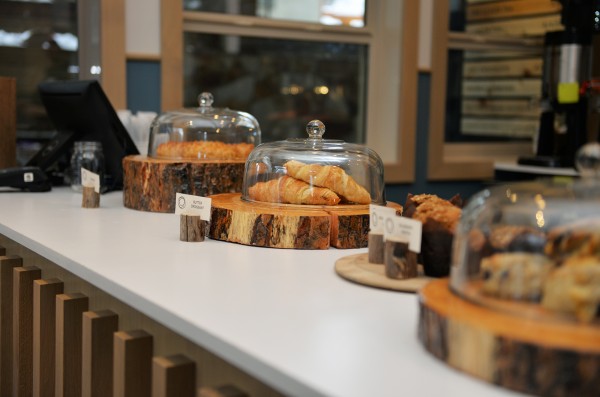 Tucked away near the base of the Mile 1 Express chairlift and just down the stairs from T-Bar & Grill, you can grab and go from the heated takeout window or take a seat inside. Starting your morning at Fireside café for breakfast feels like a warm, welcoming hug. Looking for something light? Opt for a spinach and feta lattice pastry. Need a heartier breakfast? The breakfast sandwiches won't disappoint.
A selection of sandwiches, in-house baked goods and pastries are also available like loaded croissants, and warm choc-chip muffins along with a variety of coffees and hot drinks. Be sure to try the dark chocolate mocha, made from real chocolate and topped with whipped cream this drink is a sweet tooth's dream!
Order takeaway from the takeout window in the breezeway or dine-in for a refined café experience.
MUST EAT: Chocolate Banana Muffins (get them before they are gone for the day)
MUST DRINK: Dark Chocolate Mocha
The Great Hall
Breakfast/Lunch Dine-In or Takeaway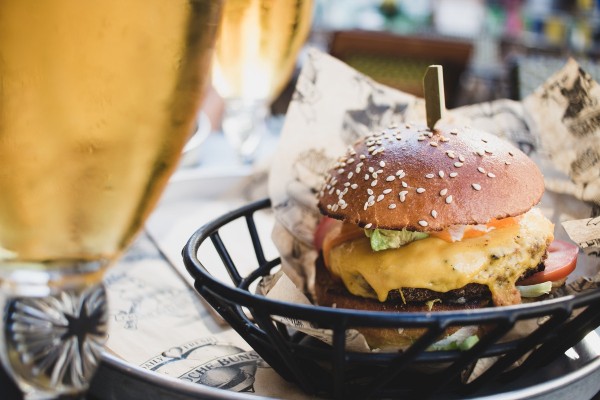 Located at the base of the main slopes, The Great Hall serves up hearty food, fast, in a to-go cafeteria style setting, or ski directly into the spacious patio area which provides outdoor seating and beautiful mountain views. Fuel up on classic burgers, loaded poutine and hearty soups before heading back out to the slopes or fill your pockets with chocolate bars, chips and other to go items. The Great Hall also offers a couple of hearty breakfast options for those who can't go past bacon and eggs.
MUST EAT: Crispy chicken burger with poutine.
MUST DRINK: FBC White Room Hazy IPA
Summit Hut
On-Mountain Takeout/Patio Lunch & Snacks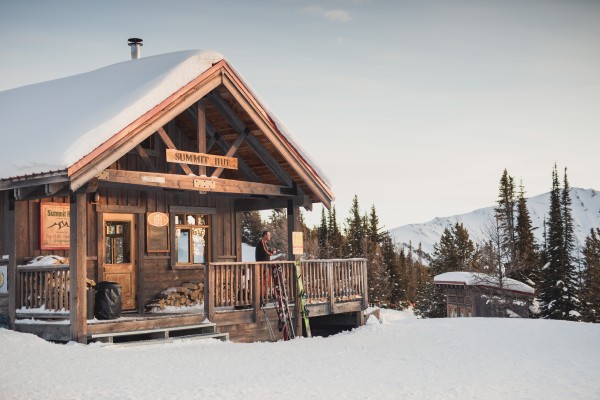 Perched at the top of the mountain, the Summit Hut offers high alpine cuisine with spectacular views of the surrounding peaks. Grab a grilled bratwurst, Ray's famous chili or a burger and find a seat outside around the deck side wood stove. New this season are Mexican street tacos made with applewood smoked meats, corn tortillas, fresh pico de gallo, coleslaw and pickled onions. The hut itself is wood heated, which makes for a cozy pitstop before you make the descent from the summit. Don't go past the Summit Hut without stopping for one of their famous specialty hot chocolates. These liquor filled beverages are the perfect way to warm up.
Grab a seat beside the wood-fire stove or fill your pockets with brownies, cookies or sweet squares for later.
MUST EAT: The local smokies, fully loaded
MUST DRINK: Toblerone hot chocolate (adults only)
Mountain Outfitters Cappuccino Bar
Grab'n'Go Coffee & Cakes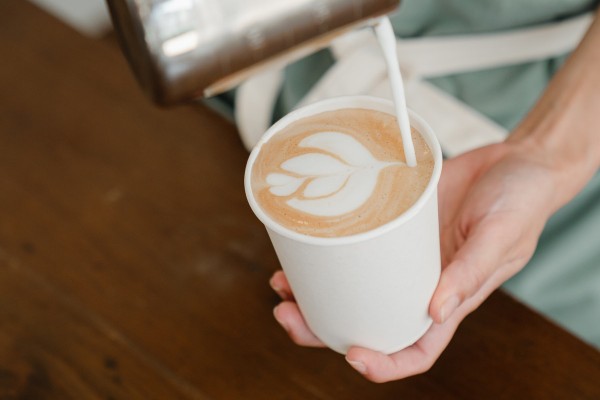 Located inside the Mountain Outfitters rental shop, the Cappuccino Bar is a convenient spot to grab a takeout coffee for those staying in the upper village condos or picking up rental gear. It's the reason Mountain Outfitters was awarded Best Smelling Rental Shop by Ski Canada Magazine! A small but delicious selection of cakes and cookies are the perfect mid-morning treat.
MUST DRINK: A London Fog with almond milk
MUST EAT: The cinnamon buns
The Shack at Greywolf
Outdoor Beer Garden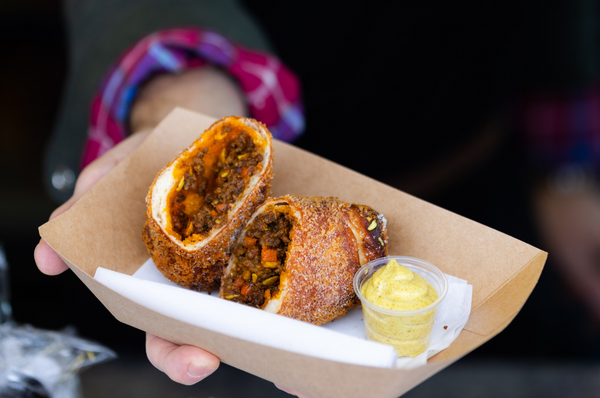 Ski down to the bottom of the Sunbird Chairlift on springtime weekends and you'll find it hard to resist the smell wafting from The Shack at Greywolf. Located beside Cliffhanger Restaurant and the Nordic Centre, The Shack is the perfect little hole-in-the-wall spot to fill your belly or your pockets in a hurry. Serving up pulled pork sandwiches, baked potatoes with chilli and a Saturdays only beef curry bun (that sells out fast), plus alcoholic beverages, pop, chips and chocolate bars, you can grab a seat at the picnic tables or slam down your food and get right back on the slopes. If you parked in the Greywolf parking lot, The Shack can help you satisfy any hunger pangs for the drive home.
MUST DRINK: Beer (what else goes with pulled pork?!) check out the East Kootenay selections from Fernie and Whitetooth Brewing Co.
MUST EAT: Beef Curry Bun (Saturdays only)
Elkhorn Cabin
On Mountain Dine-in and Outdoor Café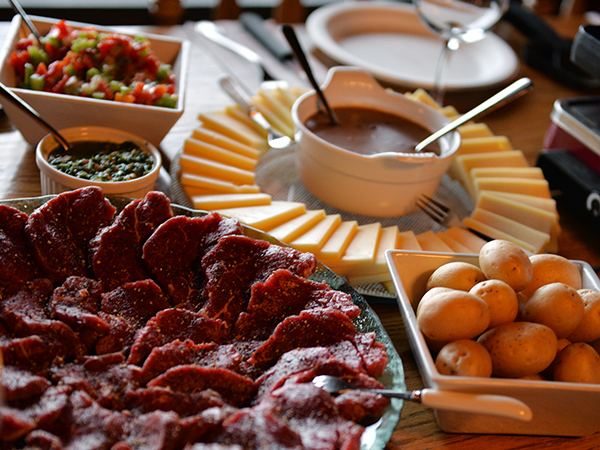 Dramatically located halfway up the mountain, this historic cabin is serving up mouthwatering cuisine and boasts some of the best views anywhere on the slopes. You'll find homemade soups and a decadent alpine style cheese grill (Raclette). Raclette is a Swiss tradition where Raclette cheese is melted and served over an assortment of breads, vegetables and meats. Kootenay hot apple cider and homemade Gluhwein are on the drinks list along with an extensive selection of BC wine, craft beers and liqueurs. Take a seat inside or on the covered deck and soak up the panoramic mountain views.
MUST EAT: Swiss alpine style cheese grill (Raclette)
MUST DRINK: Gluhwein (German style mulled wine)
T-Bar & Grill
Lunch & Dinner / Takeaway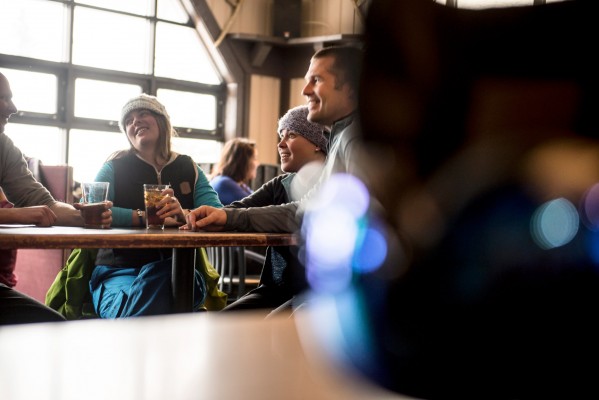 You'll find hearty burgers, wings and poutine on the menu, and hockey on TV at this popular sports bar at the base of the Mile 1 Express. The T-Bar & Grill is the hub for cold pints of local craft brews and heaping plates of comfort food after a long day on the mountain. The menu also offers a selection of vegan, vegetarian and gluten free options. With a venue so full of character, T-Bar & Grill makes for the perfect destination for laid back après or a group dinner. Is it really considered a visit to Panorama if you didn't stop in at the T-Bar & Grill?
MUST EAT: The Peak's Burger
MUST DRINK: Local beers from Arrowhead and Fernie brewing companies.
Cliffhanger Restaurant
Dine-in Lunch/Dinner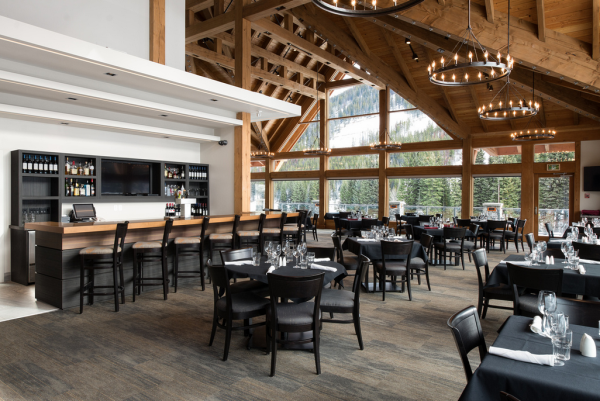 Overlooking the beautiful snow-covered expanse of Greywolf Golf Course, Cliffhanger Restaurant has a menu bursting with flavor. Led by acclaimed chef Galasa Aden, you'll enjoy spacious dining beside ceiling to floor windows as you take in the views of the surrounding Purcell Mountains. With a background in fine dining and a passion for seasonal ingredients, Chef Aden delivers a gourmet menu that's approachable and mouthwatering. A great location for lunch and dinner with the family as well as après!
The restaurant is located at the Greywolf Clubhouse, a quick drive or 20-minute walk from the resort's main village. Reservations are encouraged and can be made by phone (888) 473-9965 or booked online here.
MUST EAT: Coho Salmon with grilled brassicas, miso mayo, roasted cauliflower, salsa verde
MUST DRINK: Maple Old Fashioned
Jackpine Pub
Drinks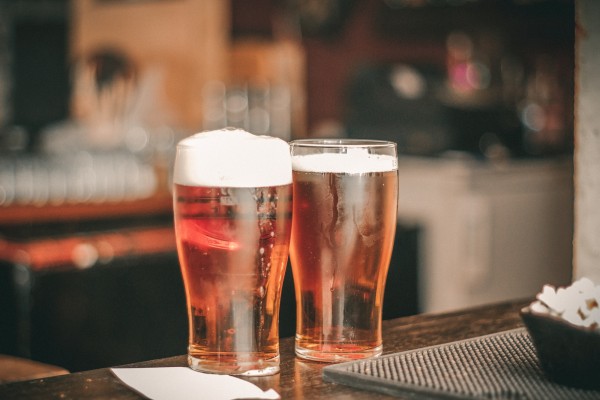 Quaint and cozy with a distinctly laid-back local's vibe, the Jackpine Pub is hidden away in the lower village. There is barely a street sign for this tucked away drinkery making it the perfect place for a quiet evening out. Things are kept simple here with a good selection of local beers on tap and well-crafted cocktails. Be sure to visit Jackpine on a Thursday night for lively themed trivia, with prizes for the winning team up for grabs.
MUST EAT: Order a takeaway pizza from T-Bar and bring it down to Jackpine
MUST DRINK: Local beers on tap
Choppers Landing
Dinner | Drinks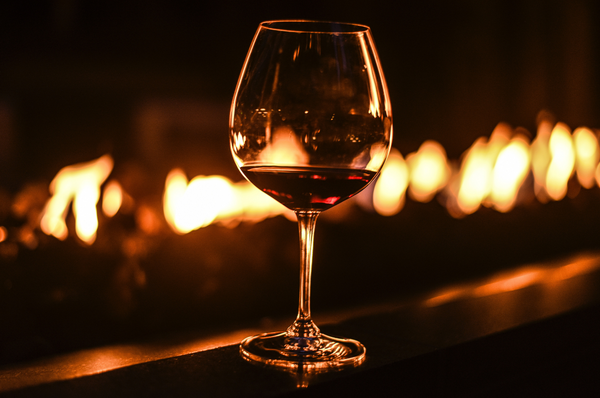 Choppers landing at the RK Heliplex is a must-visit when overnighting in Panorama. With views over the resort and mountain, Choppers is the perfect spot for après by the wood fire. Stop for a moody cocktail and check out the delicious selection of shareables and appetizers.
The RK Heliplex is a short walk from the center of the resort. Take the free village Gondola down to the lower village walk past the General Store, Horsethief and Toby lodges to the RK Heliplex.
MUST EAT: Baked Brie with Apple-Cranberry Chutney
MUST DRINK: Local BC wines
Hut One Café
On-Mountain Dine-In & Outdoor Café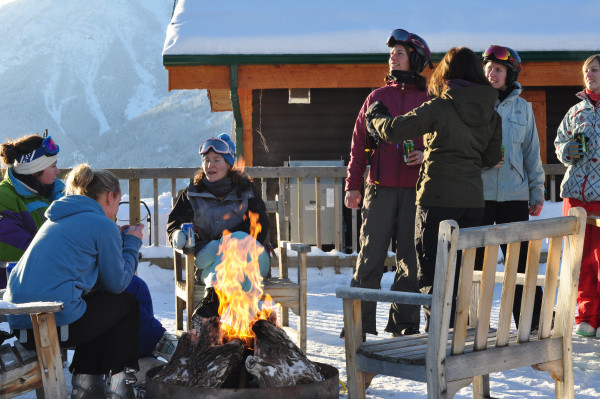 Conveniently located at the top of the Mile 1 Express chairlift, Hut One is a favourite stop on your way up the slopes to grab a snack and a cold drink, and enjoy the view. Serving up grilled sandwiches, and warm beverages, this tiny hut is surrounded by an oversized deck with views of the Purcell mountains and Panorama's village. Relax by the fire pit and take in the stunning panoramic views before making your way up the next chairlift.
MUST EAT: Hut One's famous Grilled Cheese
MUST DRINK: A Boozy Hot Chocolate