Book now. Golf this summer. SAVE BIG!
Greywolf Golf Course opening day: Friday, May 21st 2021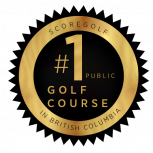 Panorama is home to Greywolf Golf Course which is the #1 ranked public course in British Columbia and #16 best course (public & private) in Canada (ScoreGolf 2020) - Greywolf Golf Course is a must for any golf aficionado!
Our Early Booking Offer is a simple way to secure the lodging you want this golf season. The best part about booking early is you save 25% off stays in our condos and townhomes when you book by May 31, 2021.
Greywolf Golf Couse operations: Friday, May 21 to Sunday, September 26, 2021.