YOU MUST RESERVE SKI OR RIDE DAYS AT PANORAMA MOUNTAIN RESORT
Mandatory reservations for Lake Louise Plus Card holders from December 26, 2020.
With the health and safety of our guests an absolute priority, we have launched an online reservation system for the Lake Louise Plus Card. Starting Saturday December 26, 2020, if you plan to ski at Panorama you'll need to make an online reservation. You will not be able to access the mountain without a reservation, so please do not expect to ski or ride if you haven't confirmed your spot. Through the holiday period we expect to reach capacity on several days.
Once you've reserved, you still must visit the Guest Services Desk in Ski Tip Lodge to pick up your lift tickets (Lake Louise Plus Cards are not Direct-to-Lift at Panorama). Please make sure you present your Lake Louise Plus Card along with the Order ID number you received by email after confirmation.
We appreciate your patience, understanding and cooperation. We are doing everything we can to follow public health orders and guidelines. We all want a full and fun winter season!
Reserving your day at Panorama:
You cannot visit Panorama with a Lake Louise Plus Card (LLPC) until you have made a reservation. If you have a question check out our Frequently Asked Questions section below.
When you arrive at Panorama please visit Guest Services with your reservation confirmation number to pickup your ski ticket for the day. A $5 refundable card deposit is required to access the lifts. Panorama Mountain Resort uses an RFID ticketing system, all tickets and passes require a $5 refundable card deposit. After you pick up your Panorama Mountain RFID card, you can either return the card for $5 or keep it to reload your card on your next visit.
Activating and Using Your Card:
Your Lake Louise Plus Card (LLPC) CANNOT be used until it is activated.
2020-21 Lake Louise Plus Card is on sale.
Buy your card online or at Lake Louise Ski Resort. They can also be purchased at the Lake Louise Calgary sales office, Experience Lake Louise (in the village of Lake Louise) and at partner retail locations.
5 Top resorts!
Panorama Mountain Resort is proud to be part of the Lake Louise Plus Card for the 2020-2021 season. If you cannot secure a reservation at this resort on your chosen day, then please consider our partner resorts.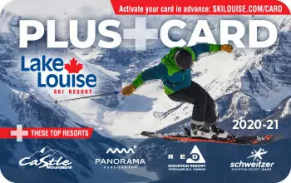 Lake Louise Ski Resort
RED Mountain
Castle Mountain Resort
Schweitzer Mountain (currently subject to US border closure)
How it works:
Price of the card costs $124 and you get 3 FREE Days at any of the 5 participating resorts - 1st, 4th and 7th cumulative visits.
20% off full-day, full price lift tickets on paid visits (one per day) for all other visits to participating resorts.
20% off full-day, full priced lift tickets for up to 2 accompanying children daily (ages 6-12).
Free days or discounted days can be redeemed at the above mentioned 5 ski resorts.
You can visit the various resorts in any order.