We know you are all at home trying to keep yourselves and the little ones busy. We have created some colouring pages of a few friends in the area to help you pass the time. Grab your crayons, markers and pencil crayons and splash some colour! Click on your favourite animal to download the colouring page.
Show us your great pictures by posting a picture of you and your drawing on Instagram and tag @panoramaresort and #panoramacolours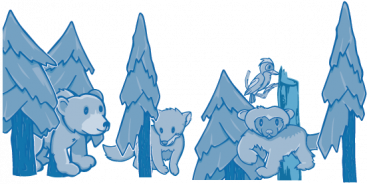 | | | | |
| --- | --- | --- | --- |
| Birch the Bear | Maple the Beaver | Conrad the Caribou | Nelson the Cougar |
| | | | |
| Grizzly bears can be distinguished from other bears by the large hump on their shoulders. Birch the bear can be found in the spring and summer around Panorama gathering berries and going on walks | Beavers are great swimmers, they can swim underwater for up to 15 minutes. Maple calls the Columbia River Wetlands home, building a house of sticks, twigs and logs. | Caribou use their hooves as a scooping tool to help them find food under the snow. Conrad is tough to find, but if you are lucky you may spot him in the forest in the Columbia Valley. | Cougars can sprint an average of 56km per hour and can jump 5.5m straight up off the ground. Nelson is a big and curious cat, but it's quite unusual to spot him in the daylight. |
| | | | |
| --- | --- | --- | --- |
| Petra Hare | Mittens the Lynx | Hazel the Marmot | Sherman the Moose |
| | | | |
| Hares use their powerful leaps of more than 3m and they run in a zigzag style to evade their predators. In the winter sometimes you can find Petra the Hare's footprints on trails and paths. | Lynx are most recognizable by the black tip on their short tails and the long tufts on their pointy ears. Mittens loves being outside and is normally awake during the night. | Marmots are social animals and live in colonies. They can often be found playing with each other. On a hike in the alpine you may be able to spot Hazel and her friends running and playing. | Moose can swim and dive up to 5.5m. They swim to feed on plants in lakes, escape bug bites and cool down on hot summer days. Sherman hangs out in Panorama, look for him in Founders Ridge or on the road to Panorama. |
| | | |
| --- | --- | --- |
| Delphine the Wolf | Xena the Wolverine | Jax the Woodpecker |
| | | |
| The howl of a wolf can carry up to 10km even in dense forest. They howl to gather their pack and let other wolves know where they are. At night, if you listen carefully you might be able to hear Delpine the wolf howling at her other wolf friends. | Wolverines live in dens made of rocks and boulders or snow tunnels in the winter. They move around looking for food and males have a home range of around 1000 square kms. You may be able to find Xena the wolverine on a walk in the Kootenay National Park. | Woodpeckers use their beaks to peck and dig under bark to find ants and other insects for food. They keep forests healthy by eating wood-boring bugs and insects. Jax can be heard in the forest pecking on trees and bark to his next meal. |
For more facts about these animals and more visit National Geographic and Canadian Geographic.