For Release, May 25, 2023
PANORAMA MOUNTAIN RESORT CERTIFIED AS THE FIRST WHITEBARK PINE FRIENDLY SKI RESORT IN CANADA

Certification recognises efforts to help recover threatened keystone tree species
PANORAMA, BC (May 25, 2023) - The Whitebark Pine Ecosystem Foundation of Canada has certified Panorama Mountain Resort as a Whitebark Pine Friendly Ski Area, the first resort in Canada to receive this designation. The certification recognizes the resort's long and continued efforts to support the recovery of whitebark pine within its ski area boundary, a threatened tree species that plays a critical role in the biodiversity of mountain ecosystems.
"Panorama has been supporting whitebark pine recovery initiatives for almost 30 years, and we're incredibly proud to be the first Canadian lift-accessed resort recognized as a Whitebark Pine Friendly Ski Area," said Steve Paccagnan, President & CEO of Panorama Mountain Resort.
"Whether you're skiing Taynton Bowl or taking in the views from the summit, the whitebark pine is an icon of our alpine area. Our support of the Whitebark Pine Ecosystem Foundation and the vital work they do, will ensure this important tree continues to grace our mountains for generations to come."
Found across the subalpine of interior BC, Alberta and parts of the U.S, this slow growing, five needle pine is an integral part of an ecosystem that many other species depend on for survival. The tree's cones hold some of the most nutritious seeds in the mountains and sustain Grizzly bears and birds, including the Clark's nutcracker which has a unique symbiotic relationship with the tree. The deep and widespread roots of the whitebark pine contribute to the health of watersheds by stabilizing alpine slopes and regulating snowpack run-off.
Over the past decade, whitebark pine numbers have fallen dramatically due in large part to a non-native fungal disease known as white pine blister rust that has been infecting and killing the trees at an alarming rate. Since 2012, the whitebark pine has been listed as endangered under the Government of Canada's Species at Risk Act (SARA), and was recently added to the U.S Fish and Wildlife Service's threatened species list.
Panorama Mountain Resort has collaborated with the Whitebark Pine Ecosystem Foundation of Canada to facilitate restoration projects including cone collection and tree plantings within the resort's ski area.
"Panorama Mountain Resort has been a leader among ski areas in collaborating on whitebark pine recovery efforts; their participation is greatly appreciated and does not go unnoticed," said Randy Moody an ecologist and President of the Whitebark Pine Ecosystem Foundation of Canada.

"Over many years the resort has supported cone collections, seedling planting, hosted numerous workshops for professionals, and created outreach opportunities for their guests. Ski areas form an important linkage with the public, as they are the location where most people will see a whitebark pine and the associated decline of whitebark pine ecosystems. We hope Panorama's certification as a 'Whitebark Pine Friendly Ski Area' will serve as a model for other ski areas."

In 2021, 5000 whitebark pine seedlings were planted in a permanently closed area within Panorama's ski boundary known as Canadian Bowl. Plantings like this are the future of whitebark pine. The project was made possible by funding from the BC Government's Forest Carbon Initiative. Mature trees are also screened for resistance to the white pine blister rust. So far, at least one tree has been found at Panorama.
Panorama joins Sorcerer Lodge as the only other Canadian ski area to have obtained certification so far. Sorcerer Lodge is a helicopter only accessed backcountry lodge located in the Selkirk Mountains.
More information about whitebark pine and the Whitebark Pine Friendly Ski Area certification program can be found at whitebarkpine.ca.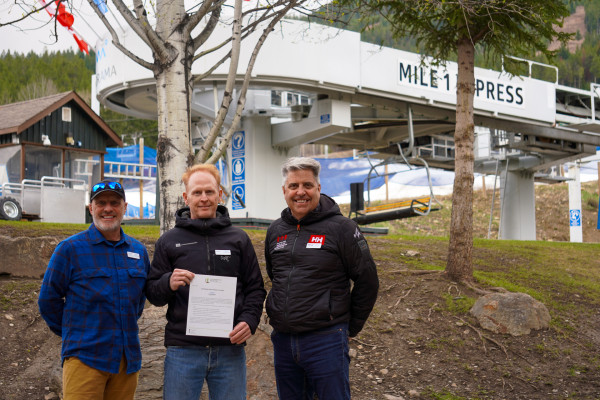 Panorama Mountain Resort President & CEO, Steve Paccagnan (right) and Director of Mountain Operations, Patrick Fournier (left) standing alongside Andrew Nelson, Panorama's Avalanche Risk Manager and resort lead on whitebark pine recovery initiatives. Credit: Panorama Mountain Resort.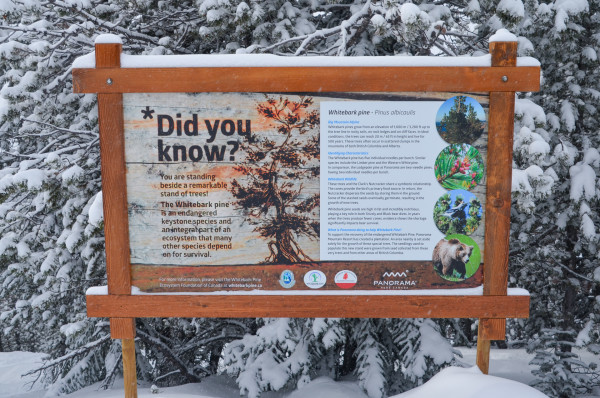 A sign board at the summit of Panorama educating guests about whitebark pine. Credit: Panorama Mountain Resort.
Header image: Skiers walking beside whitebark pine along the ridgeline of Taynton Bowl a whitebark pine management area within Panorama's ski area boundary. Credit: Panorama Mountain Resort.
- 30 -
Other Resources
Planting the Future: Saving Whitebark and Limber Pine (Parks Canada - film)
Skiers and Forest Conservationists Work in Tandem (Conde Nast Traveller - article)
Whitebark Pine – Government of Canada (Species-at-Risk Registry)

Media Contacts
Randy Moody
Whitebark Pine Ecosystem Foundation of Canada
info@whitebarkpine.ca
Jamie Hurschler
Panorama Mountain Resort
250 341-4194
media@panoramaresort.com
About the Whitebark Pine Ecosystem Foundation of Canada
The Whitebark Pine Ecosystem Foundation of Canada is devoted to the conservation and stewardship of whitebark and limber pine ecosystems through partnerships, science-based active management, restoration, research and education.
More info: whitebarkpine.ca
About Panorama Mountain Resort
Panorama is a year-round destination with skiing, snowboarding, lift-accessed mountain biking, expansive slopeside hot pools, and an abundance of activities and events. Located on British Columbia's famed Powder Highway, Panorama offers winter enthusiasts 4,265 feet of vertical (top 10 in North America), wide-open fall-line cruisers, powder-filled tree lines, and the steep and deep exhilaration of Taynton Bowl where huge lines are accessed by passenger snowcat. Along with more than 20 km of Nordic and multi-use trails. The resort is home to RK Heliski and one of the top-rated golf courses in BC at Greywolf.
More info: panoramaresort.com