---
SNOW REPORTER BIOGRAPHY - EVAN PACEY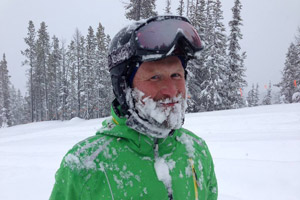 The Wandering Wordsmith is back for a ninth season at the helm. The daily 5AM alarm is set and he's armed with a figurative pen that he is not afraid to literally wield! Meet your Snow Reporter;
You might spy him in varied environments - teaching skiing and boarding with the Ski & Ride Centre, exploring adaptive technique with PASS, racing about with the kids of WVSC, or perhaps just out sampling the product - "always working" of course!
When not actively sliding, he adheres to the tenet that process makes progress: he'll pore over analytical tools each morning, check in on what the grooming crew get up to overnight, tap into the wealth of knowledge and wisdom from the Panorama Avalanche Office, not to mention taking heed of the intel from the collective braintrust (a.k.a. 'snow mafioso' when they warn against revealing their stash!)
With origins and influences from around the world and ambiguously identifying as a Britstraladian, he's been hanging out here long enough to become furniture. Riding both the well groomed and rough diamonds, be it on skis or board, he knows the journey is the true reward. With the thought that invention is better than demure, he rewrites some classics, pontificates over precipitate and often makes time to rhyme, hoping to provide a feast of words for your consumption!
With the able assistance of the Countess of Accumulation on backup, our aim is to explain and infotain. Now as the old tune goes: Let it snow, let it snow, let it snow!
---