SNOW REPORTER BIOGRAPHY - EVAN PACEY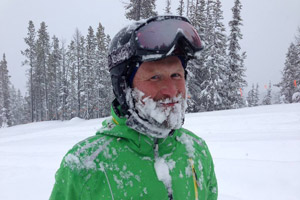 The Wandering Wordsmith is back for yet another season of masochistic 5:30 AM starts – he may have made his bed, but it seems he is unable to lie in it! Meet your Snow Reporter;
Some think he's hiding in plain sight in an elaborate witness protection program; others say he's a deep cover sleeper agent for the Australian Winter Olympic world domination program; left field theorists claim he's simply the love child of a poet and a Sasquatch; all we know is he can't help but let words flow when it comes to snow! The Wandering Wordsmith is back for season seven to pontificate over precipitate, explain and infotain.
With origins and influences from around the world and ambiguously identifying as a Britstraladian, he's been hanging out here long enough to become furniture. Riding the well groomed or the rough diamonds, he sees variety as the spice of life. Spending most of his winter on snow teaching skiing and boarding with the Ski & Ride Centre, exploring adaptive technique with PASS, or racing about with the kids of WVSC, he also relishes the odd powder playtime with colleagues and cohort alike. He'll happily join you to imbibe a libation to the snow gods, but be warned: when he asks about your day he wants to know when, where, and why it was good!
Pouring over analytical tools each morning, tapping into the wealth of knowledge and wisdom from the Panorama Avalanche Office, and ably assisted by the Countess of Accumulation and the Jovial Jetstreamer, we are eyes to the skies and planks slidy side down, letting you know what it was, how it is, and when to heed the call as the snow falls.