---
SNOW REPORTER BIOGRAPHY - EVAN PACEY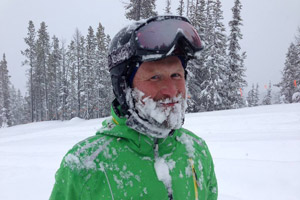 It's a new decade for the Wandering Wordsmith, fronting up for an 11th season to write stuff about the white stuff! Meet your Snow Reporter:
His office is expansive, the heating bills are low
The floors are far from level, but the feng shui has good flow
All around, the views abound, but not through a window
Out and about on our fair mount, sliding on the snow!
Analytical tools aplenty, intel from the brainstrust, the knowledge and wisdom of the Panorama Avalanche Office, reports from the grooming crew, and the processing power possessed by the Countess of Accumulation, all combine to resource and inform your snow report.
In conversation with a weather station; providing explanation of the information; finding inspiration in precipitation; it's an interpretation with imagination! Not languid with his language, he knows his semaphore from his metaphor and his airhead's from his oxymoron's. Leading you to the rough diamonds and well groomed alike, it's all about explain and infotain for a net gain in our terrain!
---