Welcome to Greywolf, a resort golf course that perfectly masters the balance between challenge and enjoyment. It is an 18-hole course that consists of a dynamic collection of par-3s, capped by the diabolical and signature Cliffhanger hole, which has been ranked among the best golf holes in the world. Designed by the talented Canadian landscape architect Doug Carrick and recognized by Golf Digest as one of the Top-100 Courses in the World Outside of the United States; Greywolf is a resort golf course unlike any other - it is authentic mountain play.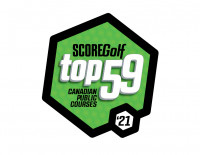 Greywolf ranked as #1 in British Columbia and #6 in Canada for public golf courses by ScoreGolf magazine for summer of 2021!
---
THE EXPERIENCE: You pinch yourself again, just to make sure that is reality. As your eyes adjust to the warm bright light of the summer sun, you realize that you are completely surrounded by the most majestic and breathtaking Canadian Alpine mountains; an abundance of vivid green woodlands and jagged hills stretch as far as your eyes can see. 18 holes peacefully await you, their unique contours outlined by pristine bunkers and idyllic waterholes. You feel like you are standing on the top of the world. Fairways, gently rising and falling ahead of you. The sensation of a challenge awakens you before you raise your club and take that perfect shot. This is authentic mountain play in Panorama, British Columbia. This is the Greywolf Golf experience.