What To Expect - Winter 2020/21
COVID Protocols & Winter Operations
Monday, January 18, 10:40 AM (MST)
Alto Kitchen + Bar reopens at 2pm today. The weekend closure was voluntary and precautionary after one staff member tested positive for Covid-19 last week. After a thorough deep clean and other tests having come back negative, we have the green light!
Thanks for your understanding and your support. Together, let's keep working to keep Panorama Covid-safe.
-
Saturday January 16, 4:00 PM (MST)
BC Public Health orders and guidelines remain in effect until at least Friday, February 5. One area that seems to be causing some confusion are the rules around gathering, both indoors and outdoors.
The BC Government website clearly states that gatherings of any type (with people who are not in your household) are not permitted. What does this mean? Friends can't meet friends at the bar for a drink, even if the number of people at a table is less than six. Two families can't meet at a restaurant for dinner. People from a number of different households can't meet outside for a BBQ. A person or a group of people from one household can't visit people from another household (this applies to people staying in resort accommodation too). Please, take the time to understand the health orders in place by visiting the BC Government website.
The Panorama Mountain Resort team continues to abide by all Public Health orders and guidelines. It's always a great day to be in the mountains, but please help us remain COVID-safe.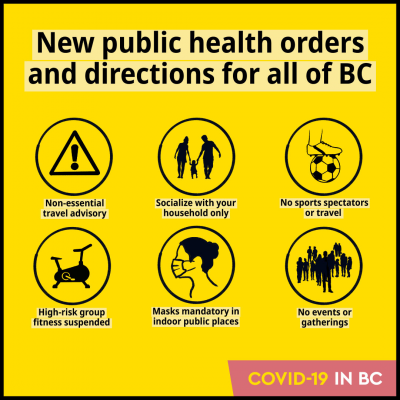 -
Friday January 15, 12:00 PM (MST)
T-Bar & Grill has reopened today. Alto Kitchen & Bar will remain closed until Monday as we continue to navigate this situation. At this time, there continues to be no additional cases beyond the single confirmed case in a staff member that we announced yesterday. Alto is scheduled to reopen at 2PM on Monday, January 18.
Thank you for your understanding and support.
-
Thursday January 14, 1:00 PM (MST)
Alto Kitchen & Bar and the T-Bar & Grill will be closed today due to a single confirmed COVID case in a Food & Beverage staff member. We are taking this action voluntarily for the safety of our community. This closure has not been mandated by Interior Health but they fully support our proactive and precautionary move.
The staff member was last on resort Sunday, January 10 and has not returned since beginning to feel ill. They do not reside in our staff accommodation.
All staff who are presumed to have had possible close contact are in isolation and will continue to be paid and supported while quarantining. None reside in our staff accommodation.
If there has been any exposure to the public, BC Public Health will contact those people directly based on the information each establishment collects from guests for contact tracing.
If you are concerned about your health, or have questions about risk of exposure, then please do not hesitate to call 8-1-1 for advice.
Both establishments are undergoing a thorough deep clean while closed and we hope to reopen them soon. Thank you for your understanding as we work closely with both Public and Interior Health authorities to carefully navigate this situation and ensure the wellbeing of our staff and community.
-
Friday January 8, 10:30 AM (MST)
By order and direction of the BC Provincial Health Officer, province-wide restrictions and enhanced public health measures have been extended to midnight on February 5, 2021 in an effort to significantly reduce the spread of COVID-19 in BC.
Our Neighbours in Alberta also announced on January 7, an extension to their government and public health restrictions until at least January 21, 2021.
It's easy for us to answer questions about Panorama booking policies, snow conditions and COVID-19 protocols (this resort follows directives from the Government of British Columbia), and what to expect when riding the mountain. When it comes to Government orders and guidelines, we ask that all people planning to head to the mountains read and understand them before making any decisions about travel.
British Columbia extended health orders and guidelines on January 7, 2021 and these are in effect until midnight on February 5, 2021. Complete information can be found here.
Alberta announced an extension to public health restrictions on January 7, 2021 and these are in effect until at least January 21, 2021. The orders and guidelines can be seen here.
Many of our 2020-21 season pass holders have asked about the availability of discounts at reciprocal partner resorts. The decision to honour any discount is at the discretion of the ski resort you visit and most will not honour discounts while the current travel advisory is in effect. We recommend you ski at home for now.
Our team has worked incredibly hard to make the season happen. We are sure that these restrictions won't be in place all winter and that there will be many great powder turns in the days ahead. Thanks for your understanding and your support.