Happy New Year! Welcome 2018!
With 28cm falling in the few days before new years eve, there was a little early celebrating! Back to back +10cm days on the 29th and 30th meant the year went out with a bang (even before we let off any fireworks!). Additionally, this snowfall gave us a running season tally that is already over half our average annual snowfall! You'd have to say that was a pretty good December - in fact there are several repeat guests, who've been coming out over a dozen years, telling me they have never seen it better over the holiday period. I tend to agree - I expect to ski great groomers (but some years, not nearly so many are open that early), but how about the well established base and a few powder days to boot?! Not to mention that with the extra acres of terrain out back, we don't seem to actually get tracked out for over a week!
Here's a little poem from the Jan 1st report that tells the story:
The trees are heavy laden, on limbs is held much snow;
Freshies abound in Taynton - it pays to be in the know.
Half the average annual reached, before the new year broke;
Tales of sweet lines proliferate, exclaimed, rather than spoke!
If the words don't do it for you, check out Graham Kinley's pics of Avalanche Technician JC Morel, taming The Monster on Dec 30th!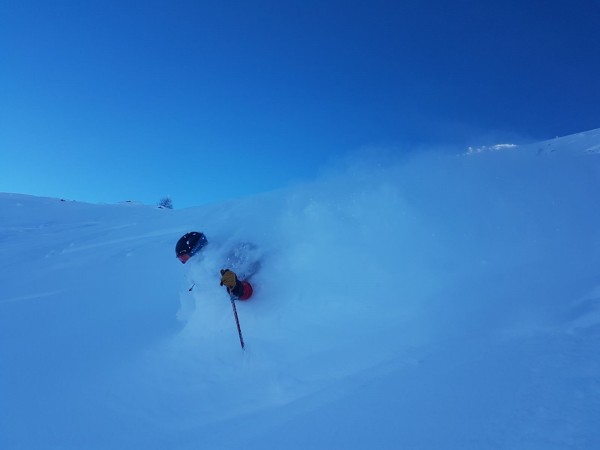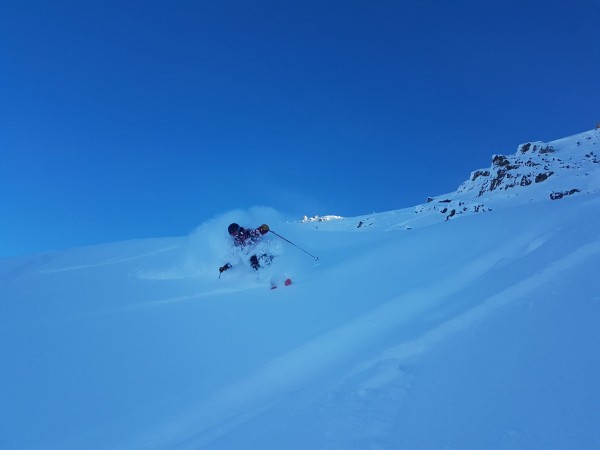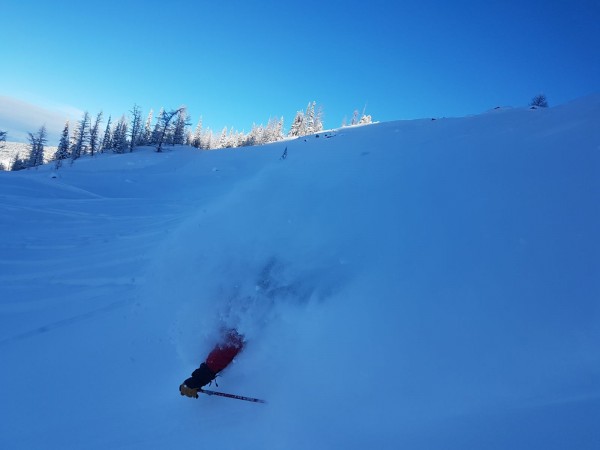 We've had some pretty cold days recently, although our prairie guests might debate what 'cold' really means! Most of the country bore the brunt of what some called a polar vortex. The good news is that temperatures have been on the rise to something more seasonal and comfortable. We've been lounging up at summit the last few days as an inversion makes it one of the more desirable spots in the region, and the cooler air around the valley bottom is being moved along, to bring a return to a 'right side up' temperature profile, and some single figure sub-zero warmth.
Has anybody noticed something in particular missing this holiday period? As is the way of the secretive, night crawling, hose draggers, they have quietly gone about in the darkness and removed all the active snowmaking! "Hang on" you ask, "snowmaking complete prior to new years? Surely it normally goes much longer?" Well, yes, mid January in recent years. In fact, I'm not sure we've ever finished so early? Seems like our investment in snowmaking infrastructure this year to increase capacity and efficiency is paying some dividends.
So: falling snow, rising temperatures and snowmaking complete - worth celebrating in my book! Let's hope January is at least half as good!