Thursday and Friday last week were a continuation of the roasting conditions, as the very dominant high pressure ridge started to slowly depart. Temperatures climbed high as a kite during a weather system that was labelled 'summery' in summary by meteorologists. Terrain closures were in place due to the lack of 'reset' in the snowpack as even overnight temperatures stayed up above zero. However, the air was calm, the drinks were cold and the company plentiful as we geared up for the High Notes Music Festival weekend.
The weekend was tempered with some cloud cover, which took a bit of the edge out of the sun and had me describing temperatures as 'milder' rather than cooler as opposed to the normal winter usage which would be 'not quite so cold'! It seems I'd spent the past week virtually writing 'sun' reports as that was the most relevance to snow condition! With a little cooling we were able to open Taynton and associated terrain for about half of Sunday, and the skiing was pretty nice with lots of soft pack spring snow on the sunny slopes and good wintery skiing on protected northern aspects. Following that line of thought, Surf was on fine form Sunday afternoon too, with plenty of soft snow – the benefit of previous wind loading through many a storm cycle into a nice pocket that rarely sees much of the sun. That's probably why it's one of my favourite runs!
Into the new week, we saw a temperature trend cooling in small increments. It's become a beneficial move to bide your time until after the noon hour to move to off piste terrain, seeking the softening sunny slopes. Most groomed terrain, especially on the lower mountain, has been softening gradually through the day to become spring slush by close. Late March is often a melt/freeze situation, so normal operations seem to have resumed after the scorching, melt only phase!
Tuesday was an example of unpredictable spring weather at it's most confusing?! Massive flakes dropping from and through clouds, which came and went to reveal blue sky through the morning, then gusting winds bringing more big flaked flurries and travel through low level cloud in the PM, before a sunny finish which belied the tumultuous nature of the day. It had my young students counting up to 16 different weather conditions for the day, and with slush through Founders late afternoon, we dispensed with trying to figure it all out and wrapped up our day with a snowball fight in good packing snow!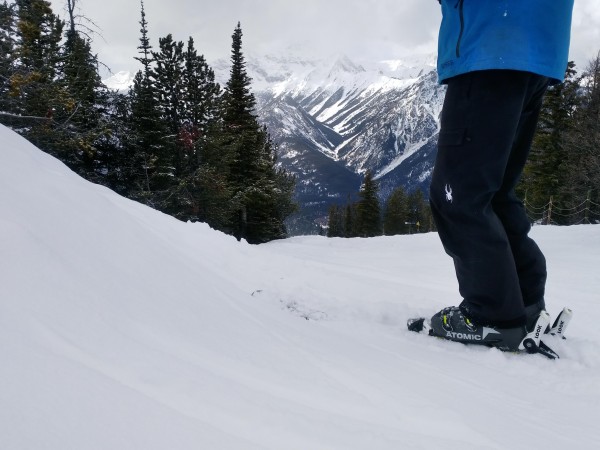 Current modelling mid week isn't showing too much change in weather conditions approaching the weekend, however some decent amounts of precipitation are seen in the long range forecasts into April, which isn't uncommon, so there may be some dumps left in our future. Temperature will play a big role in exactly what form this takes, with anything possible from full winter powder to that clear liquid variety, so I'm guessing that if I bet on mixed across elevation, I'd have a good shot at it. That's spring for you – rife with unpredictability!