Is it Spring or Winter? It's tough to tell sometimes amongst new snowfall and chilled morning starts, then warm, bluebird days with soft, yet not slushy snow. I'd suggest a seasonal description of a portmanteau word 'Sprinter', but I think it may already be in use for dryland athletic pursuits!?! Either way it's been a week where a change was as good as a holiday...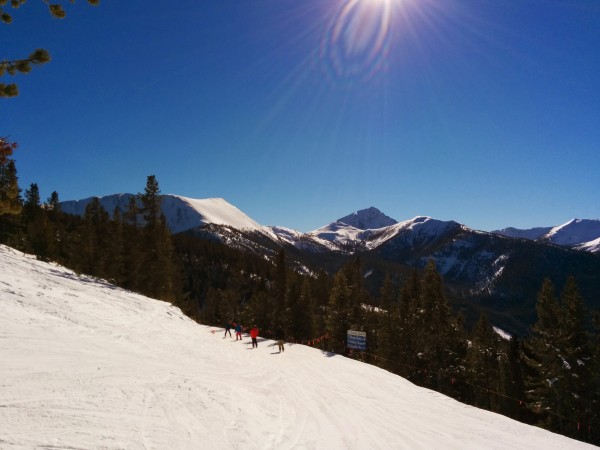 Snowfall of 9cm into last weekend (of course, right?!) gave some decent turns outback and frontside alike. Pockets of ankle deep powder could be found in Taynton through Friday, and the temperatures up top over the weekend stayed cool enough to keep the snow in fine condition throughout the bowl. Lower down into the drainages, the snow was soft packed for cruisey skiing down Landing Strip and Taynton Trail.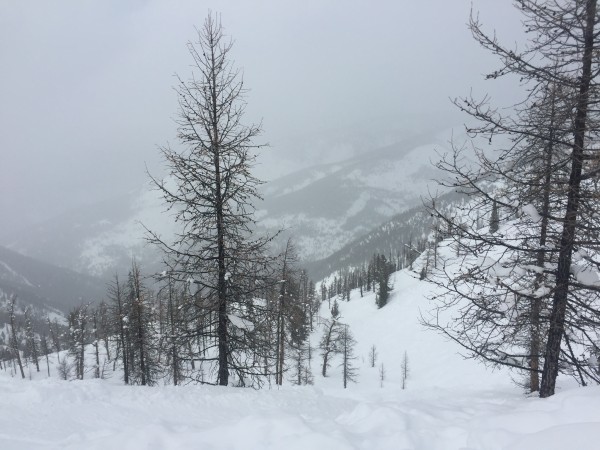 Things got rather toasty in the village, as bluebird conditions set in for the weekend and beyond. The time change was enacted, and we got some respite from the heat for an extra hour in some wintery mornings, where the overnight chill was still in the air. However, once the sun was up, the atmosphere became spring-like as the sweat came on, the layers came off, and the cold drinks went down! Gorgeous clear sky on Sunday and Monday had me searching in vain for clouds, then only a few thin cirrus to speak of on Tuesday. Aspect out back became important, as direct beating solar energy started to see some firming up overnight on sun exposed faces. Sticking to the shady side of the spines rewarded with good consolidated tracked powder, which has been really good skiing, especially for the uninitiated, where deep snow makes that terrain a significant challenge.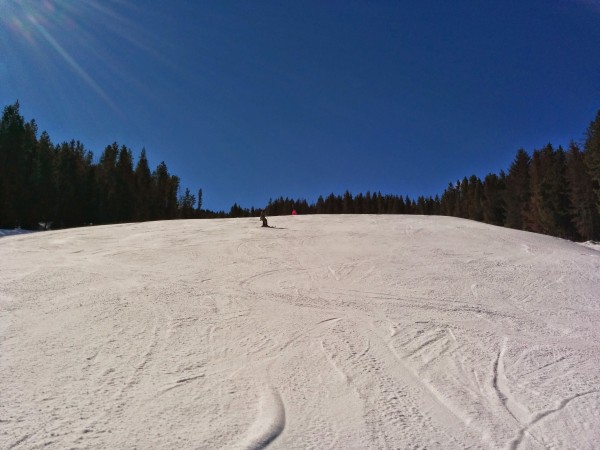 Groomers have continued to please with sugary sets in the morning that ripple beneath the edge, softening into loose, dry granular as each day progressed. A firmer base beneath supports well, allowing edges to bite, without digging the deep trenches of true Spring slush (although I'm sure our time will come!). Shadows stretching ahead have been part and parcel lately, with the tracking of the sun casting downhill for most of the day. Honestly, this snow makes you look good - sun-backed silhouettes with the legs turning and more rooster tails flying off the planks than would be found in a busy barnyard!!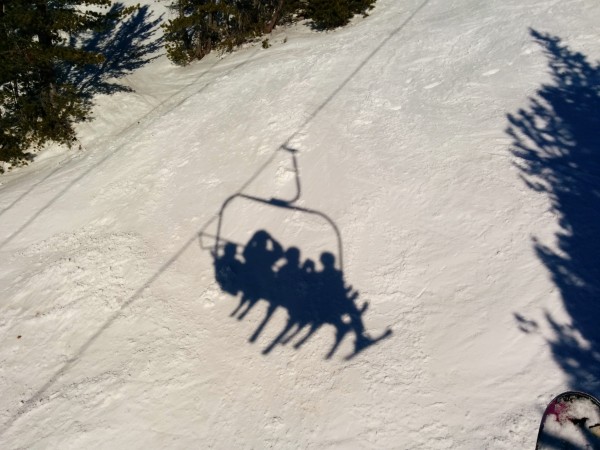 Frontside bumps on the mid mountain have been good afternoon skiing through and since the weekend, with well formed shape, settled tracked snow and a soft layer on top. I got surprised a few times on Downhill and Tacky expecting them to have gotten crispy, but so far so good for those long, leg workers! Over Sun Bowl way, it's best to stay under cover of foliage for softer bumps, or wait until solar softening late in the day for anything exposed.
Wednesday saw cloud cover come in and some light snow falling through the afternoon on surrounding ranges and our upper mountain, from mid Champagne up. Naturally, we are expecting more falls Thursday afternoon and evening, setting up some slope refreshment for the weekend (I'm not bored of that yet!). With only 3.5 weeks left in the season, it's go time to get the numbers up on your pass and enjoy the mixed season snow before we move into full Spring mode. The good times just keep on rollin', and the snow just keeps on fallin'!!