While the last week of February found us enjoying some new snow, I looked forward to see what the first weekend in March might deliver. There was potential in the forecast, and on Thursday morning, I was a little tongue in cheek when I said if things worked out, it could be "more than a dusting..."
Preseeennnttt snowfall!!!! We got 16cm overnight at the summit, and the grooming staff could barely keep up as the new snow falling had me making comparisons to waves at the beach knocking down sand castles! With control work required across Taynton, the frontside powder was on the agenda early, and with only the access trails groomed in Founders and the Sun Bowl, these were popular hits. The Zone, Stumbocks's and Heli High accessed runs opened up quickly, and I headed out for a lunchtime run through Heli High and Cauldron. I made a trade with my new found friend Chuck, who had not visited the mountain for 20 years, back before we'd expanded into Taynton - I'd guide him down, and he could ski model for me. Tough to resist, he jumped at it! Check out some of his work below: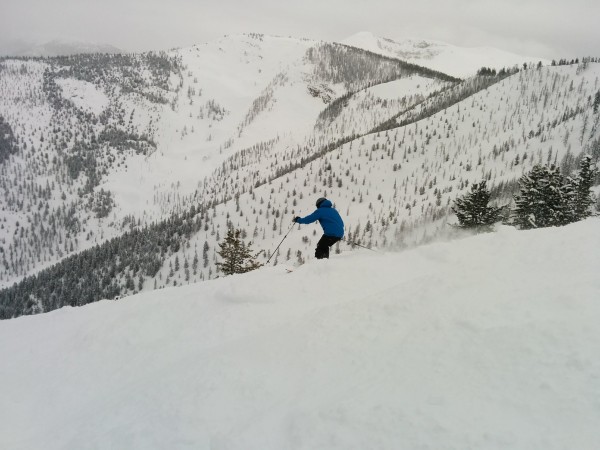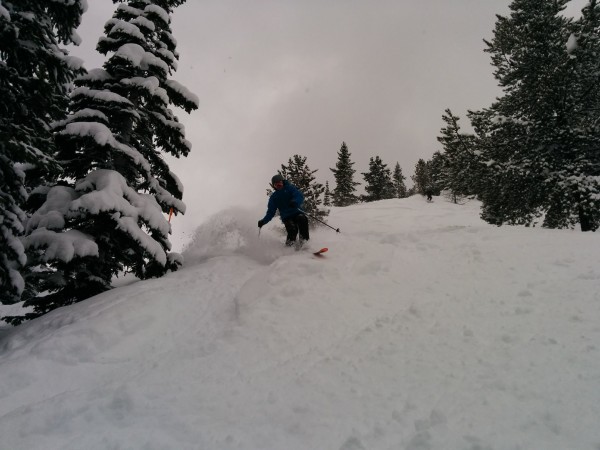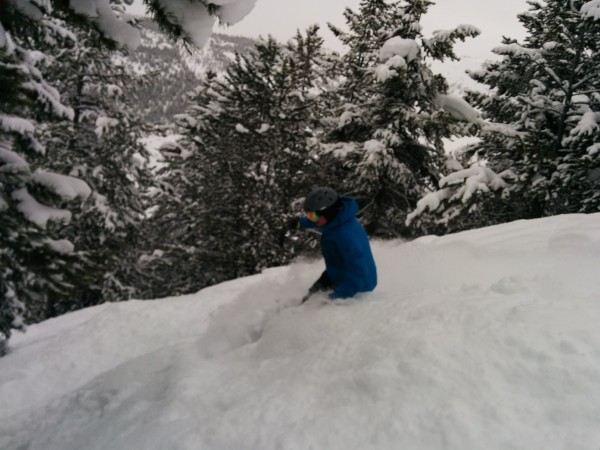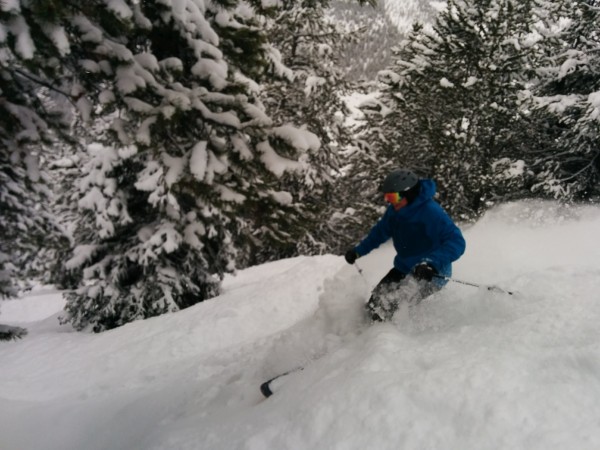 By Saturday morning we had added another 11cm on top, for nearly a foot of fresh snow on so much untracked terrain! With the extra time to get all the control work done, we were ready to welcome the troops of weekend warriors, and had the Monster Tow running throughout the weekend to access all this years new terrain. However, you didn't need to be out back - I had face shots on frontside bumps!! Many regulars figured it to be the best weekend of the season so far, and that is really saying something in a year when the top ups have been almost military in their timing.
The new working week brought sunny skies and the remainders of the weekend powder to exploit. Into it on Monday morning, and in no time at all we were out locating good turns in trees around the Sun Bowl and on both sides of the Extreme Dream Zone, with some steep and deep turns that had a septuagenarian ex cat and heli ski guide grinning like a kid! Some afternoons in sunny weather through the early week were perfect for Taynton turns, and the soft tracked majority is still interspersed with a surprising number of fresh pockets come midweek. Meanwhile on the frontside, the groomed runs have been starting with a nice set, quickly evolving with sun and warmth into a soft 'giving' layer of a couple of centimetres over a firmer supportive base, leaving rooster tails behind the planks on every turn. This is the snow that can turn mere mortals into heroes!!
There's a Spring feel around the village with the recent sunny days raising the mercury and filling the patios from lunchtime onwards. Temperatures at the base have been peaking above zero for the high, while most of the mountain has remained a little cooler. Wintery snow is still the primary condition, with extremely good quality in any shaded and/or North and West facing aspects especially. Risk assessments have been done on some slide paths affecting Taynton Trail, and the team have carried out preventative control work in preparation for the coming warm up. Enjoy current conditions while you can folks, the seasons are soon to be a changin'. Sunscreen? Check. Warm wax? Check. Lighter layers? Check. Great snow? We've already got that one covered! Disssssssmissed!