Last week, I was saying that January was handing on the baton, and it seems that the new month has taken it with a running start. Down it came again, with a total of 23cm falling in the first week of February, topping up on an almost daily basis. Sunday gave 7cm during the day and 7cm more that night, making Monday a cracking powder day! A mix of fresh amounts on groom, an off piste environment that had been primed with wind blown powder and then catchment stashes that got from boot to knee deep, it was an options aplenty day.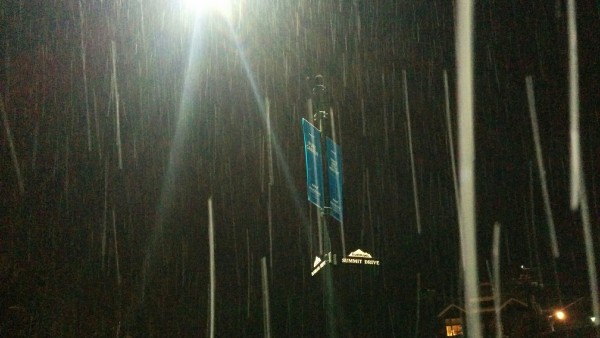 The regular small amounts of snow through the week have been really helping the grooming staff, as they've mixed this into the runs for a well maintained product. The solid amount of snowfall so far this season has seen the base build well, setting us up for the family day weekends and general traffic increase during the month. Regards traffic, I was just away at a big name resort in the States, and spent a fair bit of time in lift lines. We don't do so much of that round our way, huh?!
Our recent weather pattern has been a predominant artic ridge hanging out near the Alberta border, slowly being pushed back by repeated punches from Pacific systems of various strengths. Much like a boxer on the ropes, this has seen many of those blows landing, and we are in the contact zone! Check out this Avalanche Canada forecast map – the 'snow' arrow points pretty close to us.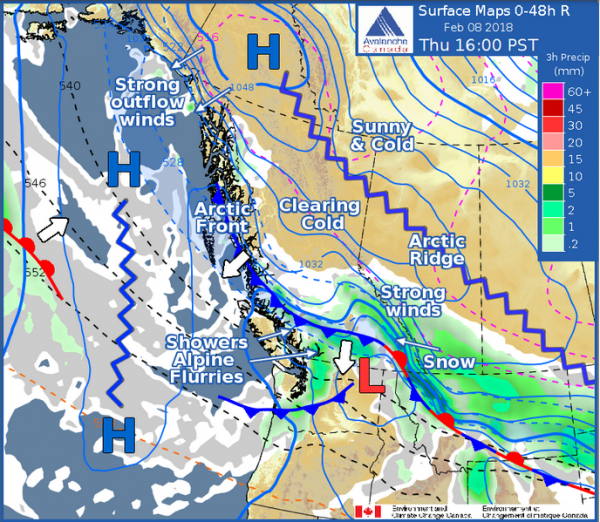 Moving into the end of the week, there are snowfall warnings issued for the region, and we're looking at more powder days to come for what seems to be constantly renewed weekend skiing. With any luck we should have some sunny breaks too, although now I do feel I'm being greedy! Such as that is, just call me a glutton then, because if there are rays of sun and freshies aplenty, I'll be consuming until I've had too much!