Ahoy ye pack of slope sliding landlubbers!
A sea of white we've seen on scene, so raise your crew before the seasons been… Some fresh snowfall into last weekend (there has been a pretty regular pattern of that this season it seems!) kept the groomers in good shape, gave some light powder play for lines through Sun Bowl and Founders, and allowed some soft turns atop a supportive base for Taynton travellers. However, the weekend brought some colder temperatures that had me describing winter as a house guest who'd slightly overstayed their welcome! I mean -26c may be ok for you hardy prairie folk, but we'd rather keep it warmer here for your visits here! Luckily, the brilliant blue sky and bright sunshine allowed warming through the days, inviting riding in plenty of good snow and spectacular views too!
Into Monday, it seemed the weather patterns were playing at being a statue as a dead calm held and no movement to change looked likely. Temperatures would rise and fall with the sun, and the mantra of 'don't stray from the rays' kept icicles from forming on the end of the nose. 'Spot the cloud' continued to be the relevant game on Tuesday, as locals went out finding lesser and untracked turns in ankle and boot deep snow through areas in the Zone and Taynton. The base out back has been so good this season, that any new snowfall lets you go at the vast majority of slopes without much concern for hidden booby traps beneath. Coverage – we've got that covered!
I went out for a training afternoon on Wednesday, and low and behold, it's the first day in recent memory that I haven't thought about the cold! In fact, working hard in the bumps caused us to open the zips to cool off! The snow seemed a little softer in general too with warming temperatures, and I really liked the less trafficked Sunbird groomers for consistency. Finding soft bumps hasn't been difficult, although the line choice has gotten a little trickier on some pure bump runs where (and I borrow once more from the nautical world) the pitch, yaw and roll has become more noticeable in the sizeable swell. A no hike option from summit found good turns in Heli High and a surprising amount of soft, lesser tracked snow into Cauldron. The lower open section of the drainage found some of the most playful small bumps on the mountain. A touch of snow is forecast into the next weekend, so we'll see what the winds bring us...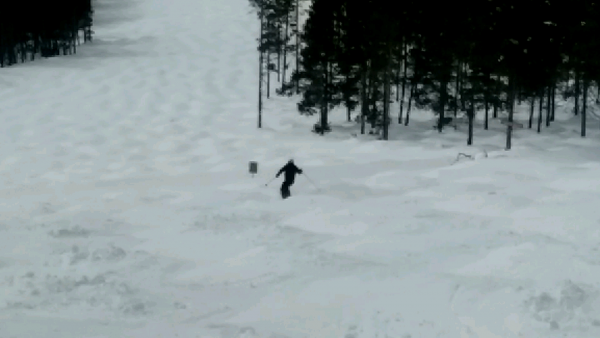 We made a point of checking against snowfall figures over the last 5 years, and with our current season total at over 90% of average annual (in the first week of March!), it's the highest number in quite a while now. Along with the Easter weekend being late this year, that prompted us to extend the season for a week until Easter Sunday. So closing day is April 21 – it's been a bunch of seasons since we went that late! So, set sail for the mountains and ride the spring tide!