Coming into the holiday period, we'd thought things might be a little quiet with folks staying home until after Christmas Day, but with a snow alert for 22cm in 24hr to Friday morning, the true believers stepped up that weekend and reaped the rewards for their efforts! I got some good turns in that day and tried out some terrain I'd been waiting for because it had been looking a little thin – not a worry after that dump!
That Friday 21st was also a celebratory day for another reason, as we turned off the pumps and guns! That may not sound momentous, but we actually finished snowmaking!!! This is the first time in history we've completed pre Xmas, and that is despite the mild pre season and December weather. Call it a combination of the 7 figure investments on structural upgrades over the past few years, improved technologies and the efficiencies gained from extensive planning of logistics to minimise downtime during location changes. Big ups to the Mt Operations crew in general, and the Snowmaking crew in particular for executing play after play, and allowing us to not only go top to bottom from the word go, but also to get so many runs open for Xmas! What's truly exciting for the future is that our Slopes Manager sees this as not just a freak happening, but the new norm, with plans to keep shaving off more time in seasons to come!
Another decent snowfall on the 23rd , and we felt the presents were well and truly delivered! Some great fresh on groom frontside, and the second day of the Monster terrain being open. The Monster X was launched into operation, making it a short haul up to the plateau, from where the options to head straight down The Monster, or explore lines further around the ridge were difficult decisions. Some great pics hit the social media pages, and as per last year, riders were almost completely obscured in blower pow!! Check out more on Monster X
With so much going on, I missed one of my favourite days (or what it represents anyway) as winter solstice came and went! The days are already getting longer, and the sun will start to track that little bit higher in the sky. Luckily, Christmas day came hot on it's heels and more than made up for it. I got in an afternoon ski with friends and after our jolly ol' Xmas eve session, was just out for a gentle pootle about. That plan went out the window once I found awesome groom that took an edge well and just drew me into some high speed fun! Bumps skiing was also on form with soft pack snow allowing you to take aggressive lines in comfort.
As if there weren't enough days of note this past week, the 27th became another record breaker as we completed builds of groomer runs, some heli bombing avalanche mitigation works, park feature installation, and opened all remaining runs to have our +130 run terrain 100% open! Just to put this into perspective (or blow perspective out of the water!), the last time 100% terrain open was achieved by this date, Panorama was a one building, rope tow, ONE RUN ski hill!!! This is, therefore, an absolutely unheralded occurrence, and one that is a large feather in the cap for many divisions of Mountain Operations!
Not bad December – over a metre of natural snowfall in the 20 days since opening and we have an entire mountain to offer up! Feeling spoilt for choice? No worries, just go spend a few more days / weeks / months and tick off your targets – remember, local Mike den Otter completed all named runs by March 11 last season, and now it's all available for this winter. Who's up for the title?
---
WHO IS THIS ROVING SNOW REPORTER?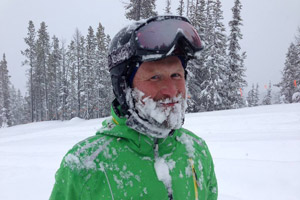 Evan Pacey - the Wandering Wordsmith is back for yet another season of masochistic 5:30 AM starts – he may have made his bed, but it seems he is unable to lie in it! Meet your Snow Reporter;
Some think he's hiding in plain sight in an elaborate witness protection program; others say he's a deep cover sleeper agent for the Australian Winter Olympic world domination program; left field theorists claim he's simply the love child of a poet and a Sasquatch; all we know is he can't help but let words flow when it comes to snow! The Wandering Wordsmith is back for season seven to pontificate over precipitate, explain and infotain.
With origins and influences from around the world and ambiguously identifying as a Britstraladian, he's been hanging out here long enough to become furniture. Riding the well groomed or the rough diamonds, he sees variety as the spice of life. Spending most of his winter on snow teaching skiing and boarding with the Ski & Ride Centre, exploring adaptive technique with PASS, or racing about with the kids of WVSC, he also relishes the odd powder playtime with colleagues and cohort alike. He'll happily join you to imbibe a libation to the snow gods, but be warned: when he asks about your day he wants to know when, where, and why it was good!
Pouring over analytical tools each morning, tapping into the wealth of knowledge and wisdom from the Panorama Avalanche Office, and ably assisted by the Countess of Accumulation and the Jovial Jetstreamer, we are eyes to the skies and planks slidy side down, letting you know what it was, how it is, and when to heed the call as the snow falls.