Snow has begun to blanket the summit and we're ready for a massive winter ahead! A multi-million dollar hotel remodel, the Ikon Pass, two times the Monster access, new townhomes, more terrain, further Nordic enhancements, plus upgraded snowmaking, ticketing and e-commerce technology. It's a long, exciting list of investments and developments as we gear up for the 2022/23 winter season.
See what we've been working on and mark your calendars – opening day is December 9!
---
$8.5 Million hotel remodel
The major redesign of a Panorama original is well underway, and we can't wait to introduce you to
The Approach Hotel
when it opens in December. Located literally seconds from the Mile One Express chairlift, the 102 rooms at The Approach offer ski-in / ski-out convenience, easy functionality and simplified mountain modern design. It's cool but unpretentious (just the way we like it) and is the perfect basecamp with dining and amenities right at your door. The Approach is home to the Fireside Café, T-Bar & Grill, Pure Massage and Alto Kitchen & Bar along with a gym, sauna and hot tub. Room types range from standard one and two queen rooms to family bunk rooms and loft units. With $8.5 million invested into this extensive renovation, The Approach Hotel is the latest location to receive a significant remake as part of Panorama's ongoing upgrade of the resort village.
Learn more
.
Part of the Ikon Pass
Panorama has joined the Ikon Pass! With 54 unique destinations worldwide, the 22/23
Ikon Pass
offers endless adventure and Panorama is now part of this incredible community. With Sun Peaks Resort also added this year, Ikon Pass holders now have access to an incredible road trip with Sun Peaks, Revelstoke Mountain Resort, Ski Big 3 (Banff Sunshine, Lake Louise Ski Resort and Mt. Norquay), Panorama Mountain Resort, RED Mountain and Schweitzer, Idaho all within a half day drive (or less) of one another.
Learn more
.
Two times the Monster access
Meet Jekyll, meet Hyde. Powder seekers will find a second
Monster X
passenger snowcat waiting on Taynton Ridge this season to shuttle them to the furthest reaches of the Monster terrain, a steep and deep area of Taynton Bowl (a 950 acre zone of inbounds backcountry style terrain). Monster X runs 10am - 2:45pm Fridays, Saturdays and Sundays from late December into March. The program is offered daily during the December holiday period plus additional special dates throughout the season. Single, multi-ride and season pass tickets will be available for purchase online soon.
Learn more
.
Nordix Townhomes development well under way
Construction is well underway on the nearly sold out, Phase One of the
Nordix Townhomes
. Located at the base of the Silver Platter, this highly anticipated collection of two, three and four bedroom Scandinavian style townhomes by Calgary-based developers Dominion, has been thoughtfully designed for modern mountain families and year-round adventure. Think gear rooms, heated garages, huge windows and plenty of space for après entertaining. Dominion is renowned for design-forward builds and the beautiful Nordix Townhomes are taking mountain living at Panorama to a new level. We look forward to welcoming the first residents in 2023.
Learn more
.
More terrain improvements & Taynton glading
You'll find a new trail in Sun Bowl this season connecting into Stump Farm and Draino, plus additional terrain work improving Village Way and the entry to Draino. Glade work in Taynton Bowl between Donnie B's and B 1st, and Kinbasket and C-Spine is also opening up more of these areas.
Learn more
.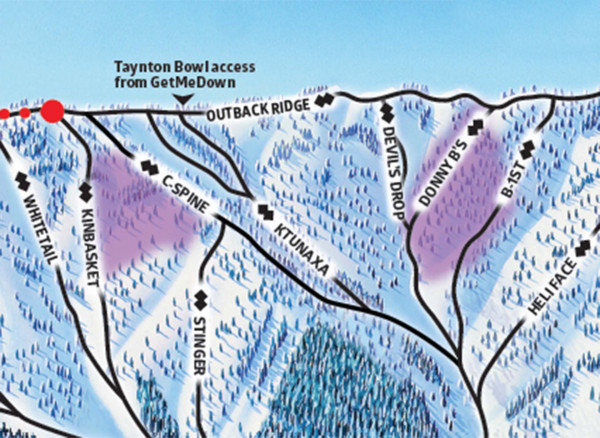 Continued Nordic area enhancements
Over the summer machines reworked the entry to the Nordic Trails to make the first pitch on Placer far gentler. Thrill Hill be gone! This work also made way for a Nordic Centre gatehouse and ticket check point to be added along the trail. A new Yellowstone Ginzugroomer has been added to our Nordic grooming fleet to assist with classic ski trail tracksetting on narrower trails.
Learn more
.
Upgraded technology
Six RFID ticket kiosks are being add in the village this winter to help speed up the collection of pre-purchased tickets and passes, and help you skip ticket window lineups. Our new online sales platform, Aspenware, provides a smoother and more tailored way to buy products online so you can enjoy an improved purchasing experience this winter too.
Our tech upgrades extend to the mountain as well with two new snowcats, including another winch, and 50 new highly-efficient HKD Impulse snowguns added to our fleet; along with the replacement of 2,500 ft of mainline water pipe. Panorama has one of the most advanced snowmaking systems in Western Canada. While these improvements may not be as exciting as hotel remodels and snowcat shuttles, the quality base this snowmaking provides for our natural snowfall to get you skiing earlier and longer will have you just as stoked.