Close to Calgary. Far from hassle.
Homes in Panorama's newest community are ski-in / ski-out with easy access to the Silver Platter. In warmer months, walking and biking trails wind from the village core right to your door and an accessible but pleasantly removed roadway takes you from the Panorama's main entrance to your driveway.
The award-winning Greywolf Golf Course is 3 to 5-minutes drive away, and Invermere, BC, is only 20 minutes down the picturesque Toby Creek Road. The Canadian Rockies International Airport (YXC) near Cranbrook, BC, is an hour and a half south, and offers daily service to and from Calgary and Vancouver.
Phase 1 and 2 of Trappers Ridge is close to being sold out with only 2 home sites remaining. Lots remaining as of August 18, 2020 are marked with a star.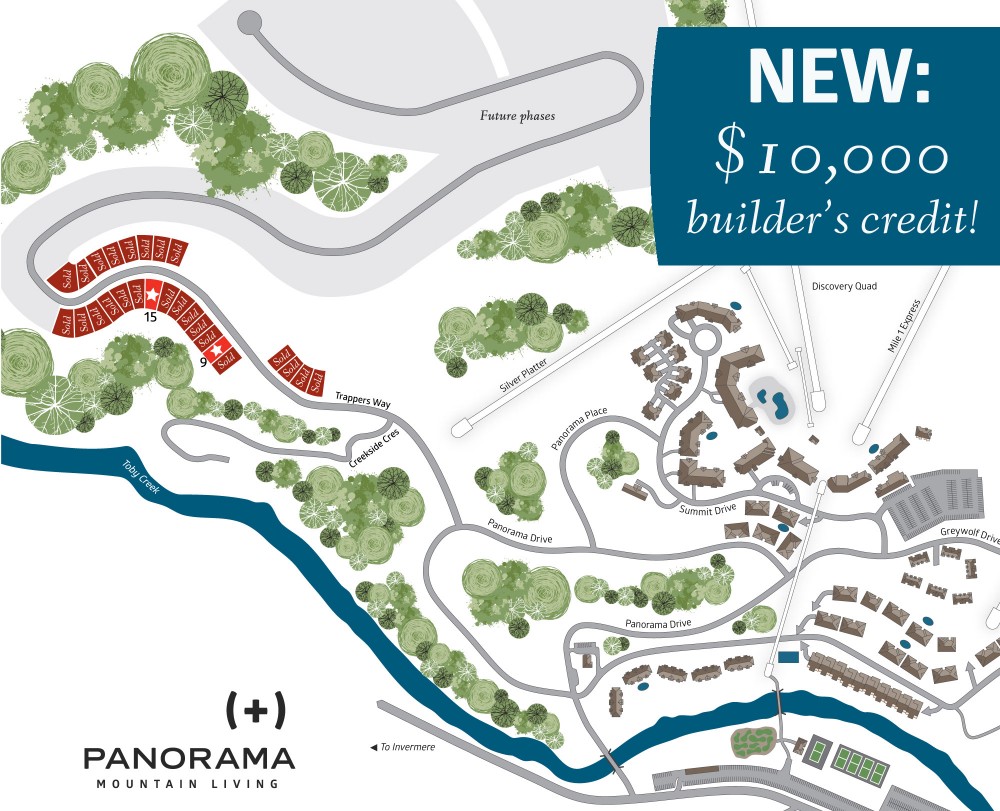 $10,000 Builder's Credit
There are only two large homesites remaining (lot 9 & 15) priced at $174,900 and now get a $10,000 builder's credit with your investment. To find out more about these homesites and the builder's credit contact Paul McIntyre at Panorama Real Estate Ltd. at 250.341.3332 or info@panoramaresortrealestate.ca
Phase 1
| Lot | Area | | Lot | Area |
| --- | --- | --- | --- | --- |
| 1 - Sold | 740.1 m2 | | 12 - Sold | 654.9 m2 |
| 2 - Sold | 740.1 m2 | | 13 - Sold | 581.1 m2 |
| 3 - Sold | 648.1 m2 | | 14 - Sold | 581.1 m2 |
| 4 - Sold | 648.7 m2 | | 15 - $174,900 | 581.1 m2 |
| 5 - Sold | 732.9 m2 | | 16 - Sold | 581.1 m2 |
| 6 - Sold | 732.9 m2 | | 17 - Sold | 581.1 m2 |
| 7 - Sold | 732.9 m2 | | 18 - Sold | 580.1 m2 |
| 8 - Sold | 646.7 m2 | | 19 - Sold | 714.5 m2 |
| 9 - $174,900 | 646.7 m2 | | 20 - Sold | 714.5 m2 |
| 10 - Sold | 646.7 m2 | | 21 - Sold | 815.9 m2 |
| 11 - Sold | 646.7 m2 | | | |
Phase 2
| Lot | Area | | Lot | Area |
| --- | --- | --- | --- | --- |
| 1 - Sold | 732.9 m2 | | 4 - Sold | 704.3 m2 |
| 2 - Sold | 732.9 m2 | | 5 - Sold | 1020 m2 |
| 3 - Sold | 659.2 m2 | | | |